THE CLASSROOM
organized by David Senior, Head of the Library and Archives, SFMOMA, and produced for this online format by Printed Matter and participants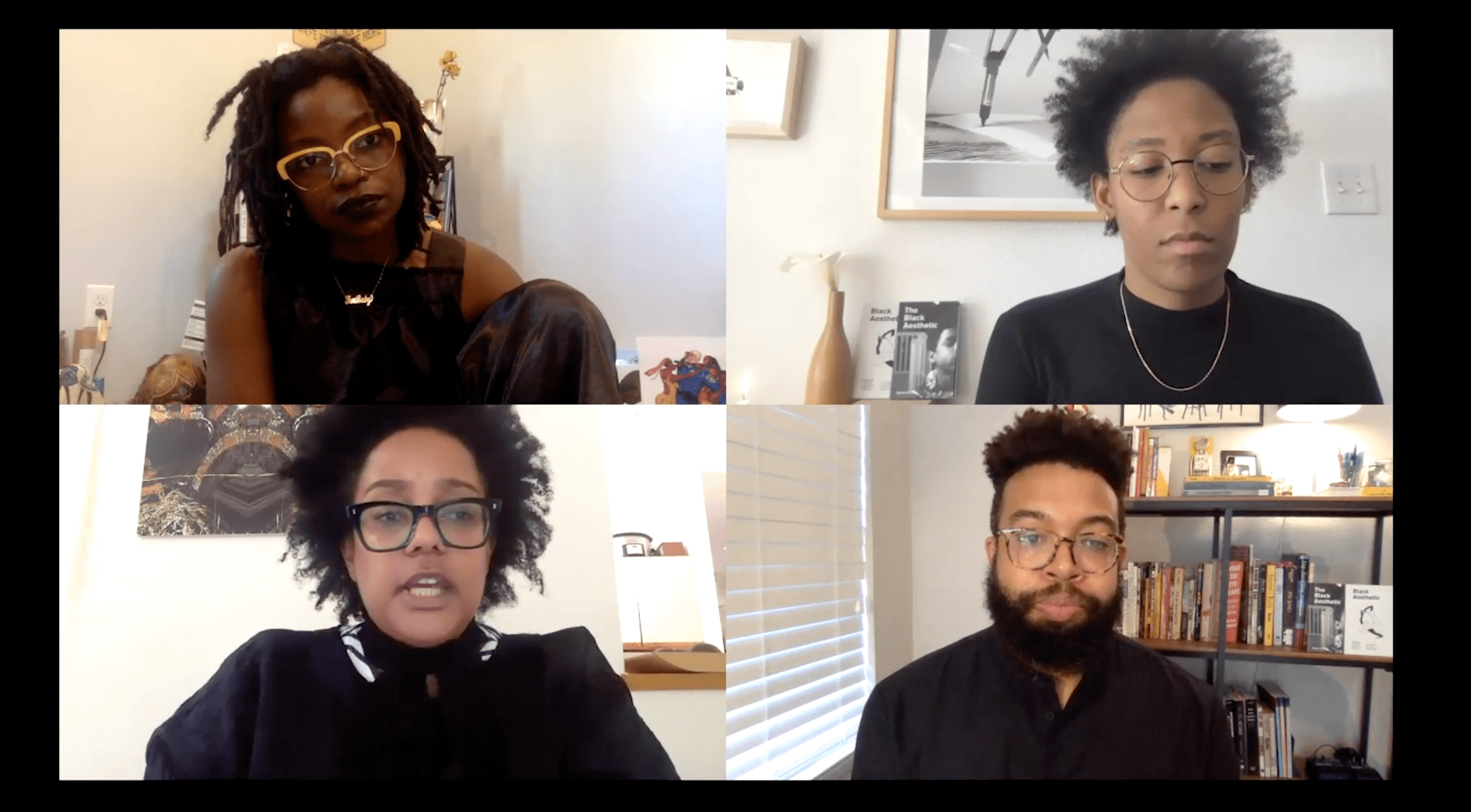 For LAABF 2020, Wolfman Books planned to present a performative lecture and screening to launch their new book,
Black Aesthetic: Season III
, edited by Nan Collymore and
The Black Aesthetic Collective (TBA)
. The book is composed of essays, poetry, and critical responses to the third season of The Black Aesthetic Film Series—featuring work by contemporary Black California filmmakers—as well as the "Black Interiors" film series at BAMPFA—which brought to light works from the museum and film archive's collection. The culminating publication in The Black Aesthetic book series, Season III features work by Leigh Raiford, Nan Collymore, Arisa White, Michael Gillespie, Angela Hennessy and TBA itself (Leila Weefur, Ra Malika Imhotep, and Jamal Batts).
In lieu of this live program, The Black Aesthetic presents an online conversation in which the collective discusses their collaborative practice and the makings of this new publication.
︎ Link to Purchase.
For the LAABF 2020 Classroom series,
siglio
and
Soberscove Press
planned to host a talk around their two new publications,
Memory
, by Bernadette Mayer, and
Excerpts from the 1971 Journal of Rosemary Mayer
. The late 1960s and early 1970s were a pivotal era for women artists and writers breaking new ground and challenging the male-dominated worlds in which they lived and worked. In 1971, two sisters—Rosemary and Bernadette Mayer, then in their twenties—each kept a journal of sorts. Bernadette's was driven by conceptual constraint and results in Memory, a monumental installation investigating the texture, surface, and material of memory, comprised of over 1100 photographs with over six hours of recorded audio. Rosemary's was a daily journal that documented the entanglement of art and life in what was a pivotal period for her, artistically as well as personally.
The program would have featured historian Marie Warsh, Bernadette's daughter and Rosemary's niece, in conversation with writer Janet Sarbanes. In its place, Lisa Pearson (siglio) and Julia Klein (Soberscove) talk about the making of these books and their work as publishers.
︎ Link to Purchase
︎ Link to Purchase
Sarah Charlesworth: Image Language Virtual Walkthrough with Christine Robinson and Matthew C. Lange,
for LAABF 2020
For the LAABF Classroom series,
Printed Matter, Inc.
had planned to present a conversation between curator Christine Robinson, writer Leslie Dick, and other participants, drawing on themes from the exhibition
Sarah Charlesworth: Image Language
, which was scheduled at Printed Matter through April 19. In its place, Robinson and Matthew C. Lange (Studio Manager, Sarah Charlesworth Estate) deliver a virtual exhibition walk-through and look at Charlesworth's long engagement with publications, including writings, artists' books, and her early involvement with the magazines The Fox and BOMB. They also share and discuss process material drawn from the Charlesworth archive, including the artist's image research, production paste-ups, and experiments from her photographic projects.
︎ About the Exhibition
︎ Link to Purchase
Fervent Manifesto Workshop for LAABF 2020
︎
Spanish Version
For the LAABF Classroom series,
Calipso Press
had organized a fermentation workshop with their recently published artist Mercedes Villalba to launch her new book,
Fervent Manifesto.
In place of this program, Calipso Press, along with Oswaldo Garcia from
Gold Rain
, have put together a digital version of the workshop for everyone to do at home!
Mercedes Villalba's
Fervent Manifesto,
speaks of how we are in times of resistance. Villalba uses nature's resilience as inspiration for our own. Admiring nature's refusal to ever sit still, she looks at fermentation and funghi; examples of how every surface 'is brimming with life and time.'
︎ Link to Purchase
Conduct Matters, for LAABF 2020
For LAABF 2020, Jeanine Oleson planned to present a performative talk to launch her new book,
Conduct Matters
, published by
Dancing Foxes Press
and designed by LAABF and NYABF regular exhibitor nicole killian. This new artist's book is a result of Oleson's 2017 exhibition and performances at the Hammer Museum. In place of this live program, the artist, contributors, and publishers—Jeanine Oleson, Jaleh Mansoor, Connie Butler, K-Sue Park, Karen Kelly, and Barbara Schroeder—host a virtual conversation to discuss the use of materials, language, and ethics in the project and subsequent books.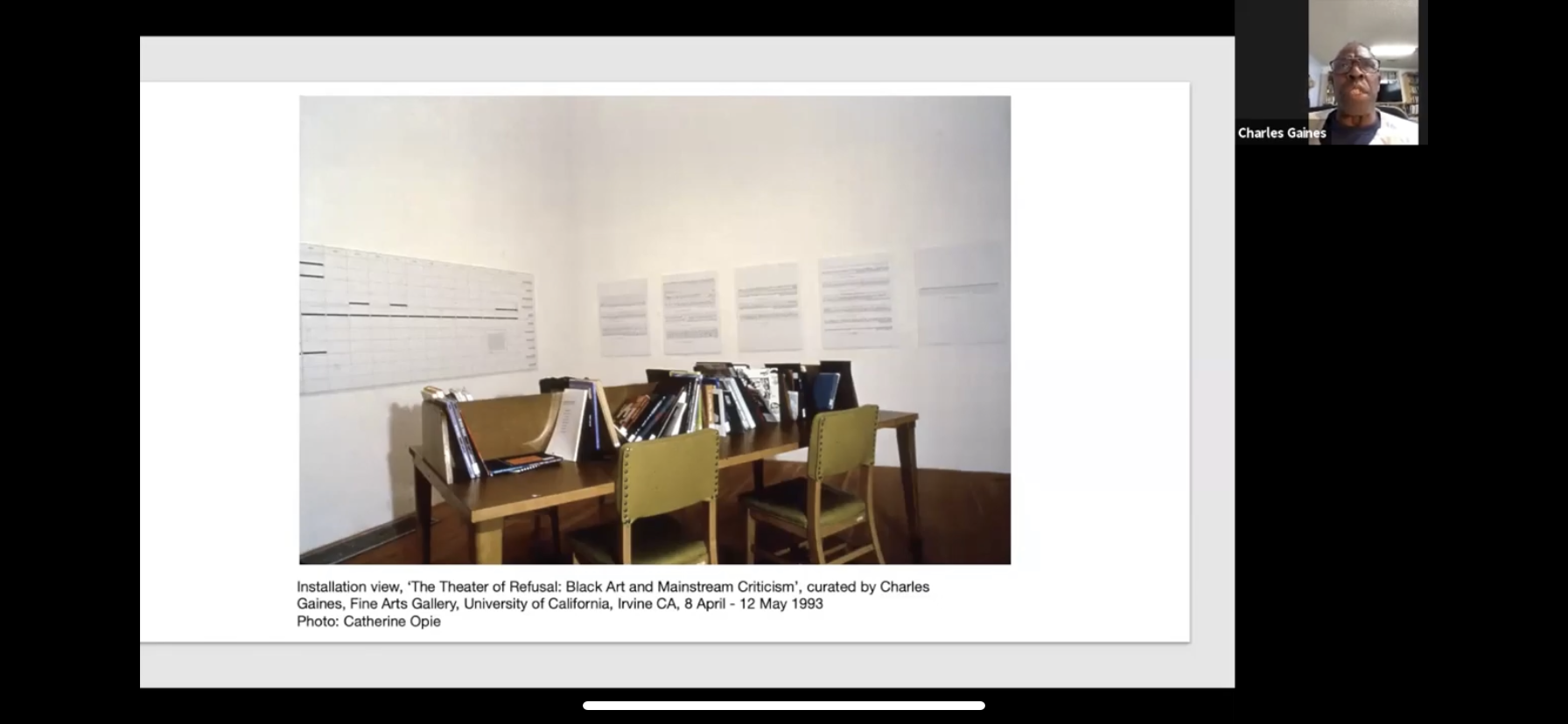 "The Theater of Refusal in the Age of Liberalism" with Charles Gaines
We're pleased to share video documentation of a virtual panel discussion co-hosted with
Hauser & Wirth Publishers
:
The Theater of Refusal in the Age of Liberalism
, with artist Charles Gaines, along with Rhea Anastas, Naima Keith, David Platzker, and Cauleen Smith, introduced by David Senior. This program takes the place of a planned discussion and launch of Gaines's recent monograph
Charles Gaines: Palm Trees and Other Works
, at the cancelled 2020 LA Art Book Fair.
"This panel will speak about "theater" and its contribution to the history of the critique of works of art, not as a universalist practice but as a cultural practice that can unpack subjective assumptions about the behavior of the Other. In addition, it will consider the thesis of marginality in this moment of liberal ideology. To this end, we will look at the greater level of diversity in contemporary practice today to see how and if today's world is like or different from 30 and 40 years ago. Is the language that is used in criticism perpetuating new tropes of marginality? When we consider this postmodern and postcolonial moment, are the terms of marginality, new or old, continuing to perpetuate a marginalized population? Is there a new framework from which we should consider what is a marginalizing practice?" - Charles Gaines.
︎︎︎ Link to Purchase
In place of their Classroom program,
Seaton Street Press
shares a video conversation between Stephanie García, gloria galvez, and Devon Tsuno, moderated by Lindsay Buchman. The group discusses García's new artist's book
De Aquí Para Allá
, as well as the importance of sharing stories from marginalized communities. galvez is an artist and community organizer with a background in prison abolition movement building, and Tsuno is an LA-native whose recent work focuses on stories written by incarcerated Japanese American teenagers at the WWII Topaz concentration camp in Delta, Utah.
De Aquí Para Allá
explores familial immigration stories through forms of correspondence and translated audio interviews, using storytelling to examine political struggle and social inequality. While Garcia's work calls attention to the plight and challenges families experience while being undocumented, she speaks to the resiliency and strength that runs through the fabric of the Latinx community.
︎Link to Purchase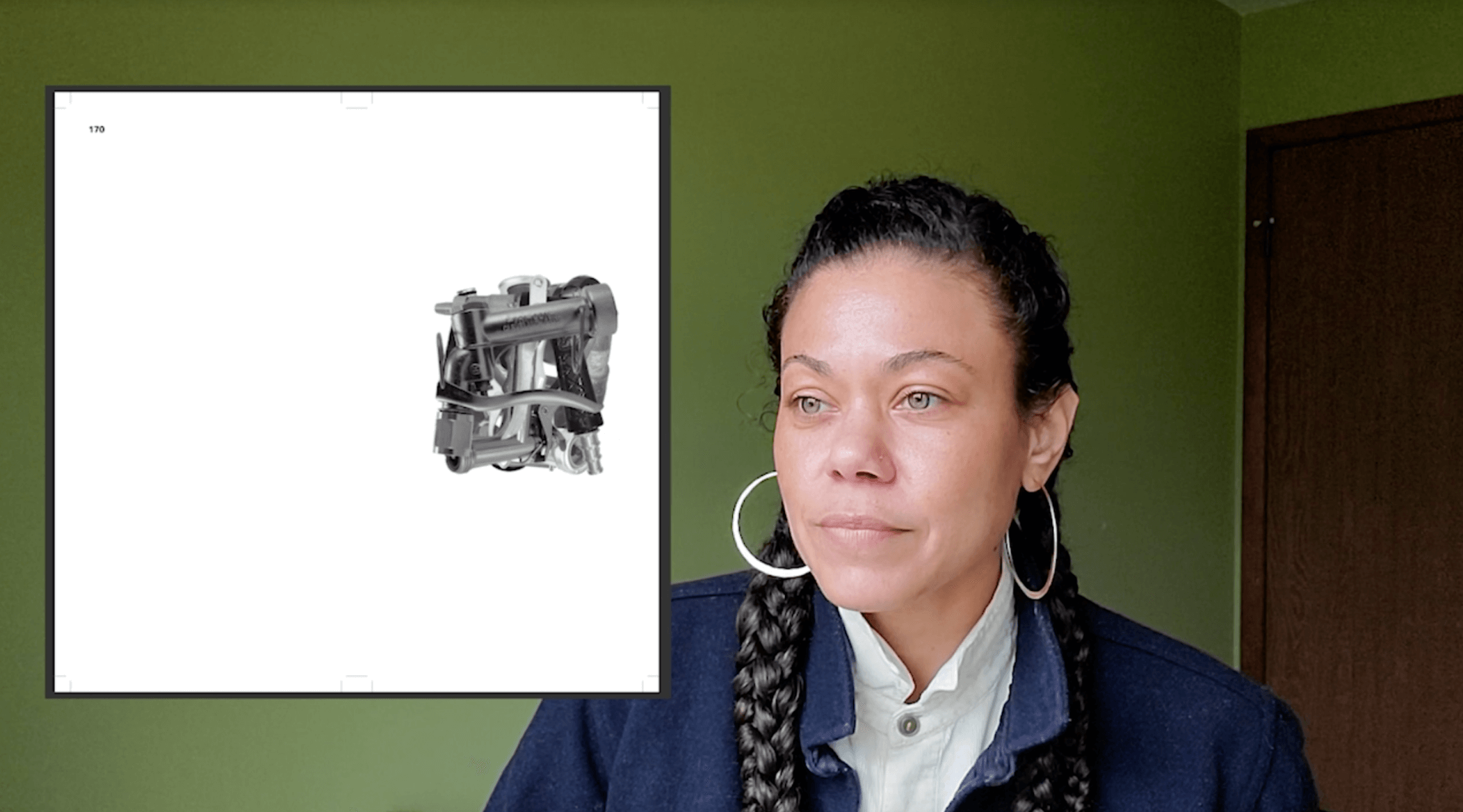 Candor Arts
and
Sming Sming Books
had planned a workshop organized by artist Cara Levine and Students Demand Action in conjunction with the new book
This Is Not a Gun
, a collection of writings and images by 40 artists, writers, and healers who respond to 40 objects mistaken as guns by police officers during shootings of unarmed civilians.
This Is Not a Gun
opens dialogue to consider how everyday objects, such as a broomstick, bible, set of keys, iPod, sunglasses, and a pack of Skittles are transformed into ones of perceived threat through the lens of racism and power.
Instead of a hands-on ceramic workshop, Cara Levine presents readings, performances, and reflections from a selection of contributors from the book: Jessica Angima, Amanda Eicher, Elizabeth Dorbad, Sonia Guiñansaca, Constance Hockaday, Chris Johnson, Eliza Myrie, Keni Nooner, Jadelynn Stahl, Leila Weefur, and Amir Whitaker.
︎ Link to Purchase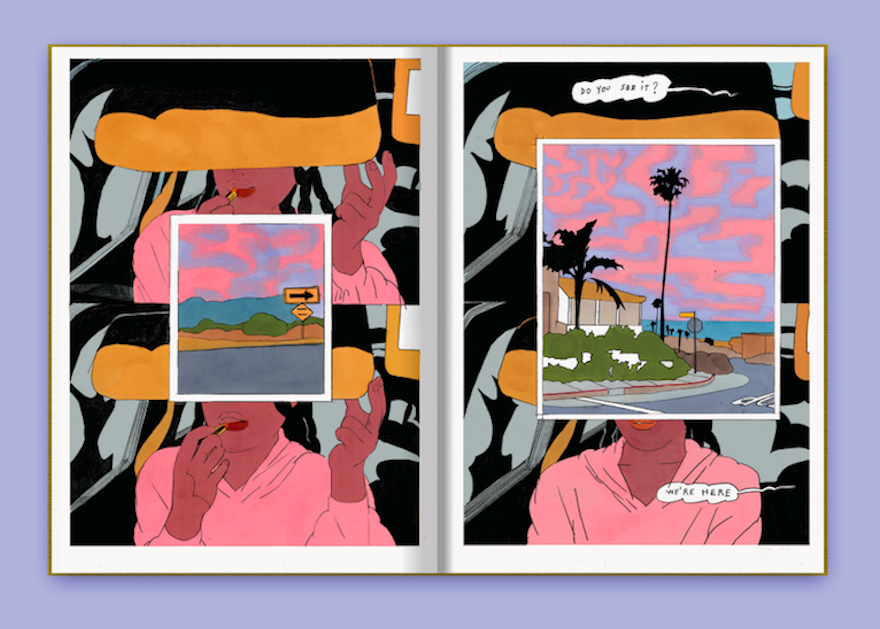 COLORAMA UNBOUND with Melek Zertal, for LAABF 2020
For LAABF 2020's Classroom series, Berlin-based
Colorama
planned to present a conversation titled
Me and You and Everyone We Know: Feminist and Queer Perspectives on Representation
, with Be Oakley, Malwine Stauss, and Melek Zertal. Johanna Maierski (Colorama) invited these artists to discuss their respective publishing practices, as well as encounters with expectations of authenticity, diversity, and uncritical discourse in digital affirmation bubbles. In place of this, we share an episode of
COLORAMA UNBOUND
, in which Maierski speaks to Zertal on life, work, and the making of her latest comic,
Together
(2020), a companion to
Fragile
(2018). Both works are published by Colorama. COLORAMA UNBOUND is a new podcast by Maierski, comprising a series of interviews as a continuation of conversations that would have taken place at recently postponed or cancelled book fairs, panels and other book-related events.
︎ Link to Purchase
Jason Polan Drawing Club
For many years, Jason Polan was a wonderful and important fixture at the Printed Matter Book Fairs and in our art book culture. His passing has deeply affected many of us in the Fair community. We open this year's program in the Classroom with an event to honor Jason and his work. Please come with your memories of Jason to share and also your sketchbook. Participants are welcome to sketch while we offer some images of Jason's voluminous drawing practice. Taco Bell will be served.
Prospects Beyond Futures, by Robert Kett
From 1969 to 1971, Indigenous activists occupied Alcatraz Island and offered a vision of the Rock as a site of Indigenous sovereignty. At the same time, countercultural practitioners were developing their own plans for Alcatraz, rooted in emerging forms of participation and techno-utopianism. In
Prospects Beyond Futures
, Robert Kett revisits the encounter between these simultaneous movements to underscore their relevance to contemporary debates over design and spatial justice. This talk marks the launch of the first title in the CCA Singles series, a project produced by the
Canadian Centre for Architecture
with the support of the Graham Foundation and designed by NORM, Zürich.
World of Words, with Mariana Castillo Deball and Jesse Lerner
Berlin and Mexico City–based artist, Mariana Castillo Deball, will be in conversation with the writer, filmmaker, and Latin American art expert, Jesse Lerner, to discuss her newest publications:
Replaying Life's Tape
and
Sun Ra. En algún lado y en ninguno.
The artist considers publishing a central part of her practice; her artists' books, editions, and the journal
Ixiptla
run parallel to her exhibition practice. In these publications, Castillo Deball makes visible her collaborative approach to knowledge, including fiction, research, and text contributions by cultural practitioners from different disciplines. Presented by
BOM DIA BOA TARDE BOA NOITE.
︎ Link to Purchase
As Radical, As Mother, As Salad, As Shelter: What Should Art Institutions Do Now? With Anuradha Vikram, Daniela Lieja Quintanar, Kris Kuramitsu, moderated by Rachel Ossip
Paper Monument's 2018 anthology,
As Radical, As Mother, As Salad, As Shelter: What Should Art Institutions Do Now?
, surveyed 30 curators on the contemporary social role and responsibilities of art institutions. Contributor Anuradha Vikram (18th Street Arts Center) and curators Daniela Lieja Quintanar (LACE) and Kris Kuramitsu (The Missing Room) will revisit the book's questionnaire in the context of LA's institutional landscape, asking: Can an art institution go from being an object of critique to a site for organizing? Should the art institution play this kind of role? And what other roles can or should it play? Presented by
Paper Monument.
︎ Link to Purchase
Do You Compute? Selling Tech from the Atomic Age to the Y2K Bug 1950–1999, with Ryan Mungia
Hat & Beard Press
presents a slideshow with Ryan Mungia, author, co-editor, and designer of the new book,
Do You Compute? Selling Tech from the Atomic Age to the Y2K Bug 1950–1999.
The slideshow will highlight some of the most influential moments in computing history during the second half of the 20th century. Featuring technological innovations from robots and integrated circuits to pop cultural touchstones such as HAL 9000 and The Jetsons, this visual journey will demonstrate just how far 50 years has gotten us and how our visions of the future have changed over time.
︎

Link to Purchase
Mark Gonzales!
Join artist, poet, and skateboard icon Mark Gonzales for a performance and talk on the occasion of Chandran Gallery's LA Art Book Fair project space installation of Gonzales's editions and art works. Mark Gonzales has been at the forefront of skateboarding and underground art's emergence in the contemporary art world. From drawings to paintings, performance art to zines and books, Gonzales's unique language and visual identity explores freestyled feelings and emotions toward art. Presented by
Chandran Gallery
.
Conduct Matters, or Conduct Matters, with Connie Butler, Karen Kelly, nicole killian, Jaleh Mansoor, Jeanine Oleson, and Barbara Schroeder
Conduct Matters
is a performative talk to celebrate the new eponymous book that developed from artist Jeanine Oleson's 2017 exhibition and performances at the Hammer Museum. The artist, contributors, publishers, and designer will speak about uses of materials, language, and ethics in the project and subsequent book. A series of ensemble techniques from scripts in the book will also activate some of the ideas in the work. Presented by
Dancing Foxes Press.
︎ Link to Purchase
Charles Gaines on Palm Trees and Other Works
Charles Gaines—artist, educator, and pivotal figure in the field of conceptual art—has long employed a generative process to make art in a variety of mediums. His recent monograph,
Charles Gaines: Palm Trees and Other Works,
charts the evolution of the palm tree in his work from the 1980s to present day, with contributions from David Platzker and Cherise Smith. In this session, Gaines will discuss this work, the cultural and art historical contexts with which it engages, and the implications of the questions it raises. Presented by
Hauser & Wirth Publishers.
︎ Link to Purchase
John Cage: A Mycological Foray
Atelier Éditions
presents a reading and performance in the context of their newly published book,
John Cage: A Mycological Foray
. The publication draws readers across the idiosyncratic, mushroom-suffused, innermost landscape of celebrated American composer John Cage. Upon the remarkable journey with Cage, one encounters assorted photographs, compositions, and contemplations; all in the very same unexpected fashion, one encounters various flora and fungi species while mushroom foraging.
Volume I
encompasses Cage's mycological-oriented 'Indeterminacy' stories, diary excerpts, and essays, as well as the complete transcript of Cage's 1983 performance.
︎ Link to Purchase
Living Trust, with Buck Ellison and Lucy Ives
Buck Ellison will be in conversation with author Lucy Ives to launch his first monograph,
Living Trust
, published by Loose Joints. Living Trust is a survey of Ellison's recent practice which broadly investigates the language of privilege through meticulously researched images, often executed in staged settings and performative interventions into the visual language of photography. Followed by a book signing with the author. Presented by
Loose Joints
.
︎Link to Purchase
Aperture Conversations: Paul Mpagi Sepuya and Wassan Al-Khudhairi
Aperture Conversations
presents Paul Mpagi Sepuya, together with curator and editor Wassan Al-Khudhairi, for the celebration and launch of the new book,
Paul Mpagi Sepuya
(copublished by Aperture and the Contemporary Art Museum St. Louis). Although the creation of artist books has been a long-standing part of Sepuya's practice, this is the first publication of his work to be widely released. Sepuya is a Los Angeles–based artist, whose work is collected and exhibited by such institutions as MoMA and the Whitney Museum of American Art, New York. Al-Khudhairi is chief curator at the Contemporary Art Museum St. Louis and curator of the exhibition,
Paul Mpagi Sepuya
.
︎ Link to Purchase
Organizing Language | Forward / Out, with Anthony Carfello, Shoghig Halajian, Suzy Halajian, and Addie Tinnell
Join the editors of the new online journal
Georgia
—Anthony Carfello, Shoghig Halajian, and Suzy Halajian—and Addie Tinnell, Creative Director of
Commune Magazine
,
for a conversation about writing and publication that highlights the overlaps and gray areas between arts and cultural production and organizing and protest practices. As Commune emphasizes and expands our understanding of creative intelligence within global movements, and Georgia investigates the contested sociopolitical functions of art and its larger reception, the discussion will be structured around comparisons, motivations, and complications. This program is presented by Georgia, at the invitation of the
Southland Institute.